ALLMÄNT OM AURENDER
Aurender anses av många vara den ledande tillverkaren av utrustning för uppspelning av digitalt lagrad och strömmad musik.
Hanteringen av ditt musikbibliotek görs via Apples iPad, där ett mycket intuitivt och attraktivt gränssnitt gör handhavandet både enkelt och underhållande.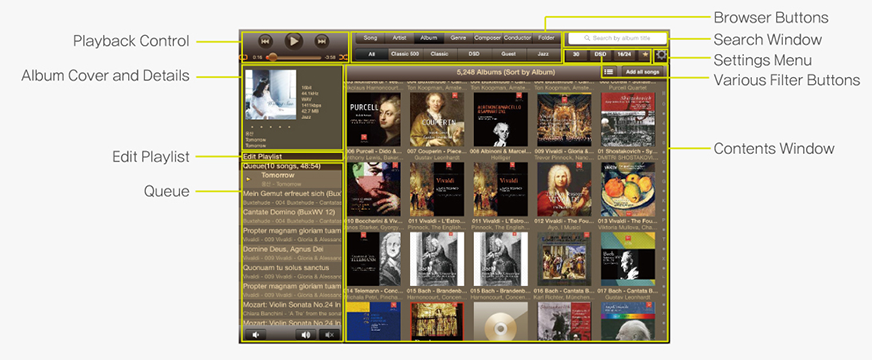 Aurender erbjuder dels renodlade streamers (N100) för anslutning till en NAS på ditt hemmanätverk, alternativt för uppspelning av musik i motsvarande CD-kvalitet (lessloss) via Tidal. Modellerna X100, N100H, N10 och W20 har optimerats för lagring och uppspelning ifrån intern hårddisk (upp till 12TB) men har även stöd för streaming.
Du hittar mer information om de olika modellerna här
AURENDER N10 CASHING MUSIC SERVER
On-the-fly precision DSD to PCM Conversion by FPGA
Designed to be used with high performance digital-to-analog converters, the Aurender N10 is the only Music Player to support on-the-fly precision DSD to PCM conversion by FPGA. With 4TB of (2TBx2) internal hard disk drives and one 240GB solid-state drive cache for playback, the N10 is the perfect solution for even the most extensive high resolution music collections.
Designed to keep the noise system noise level as low as possible
Dual linear power and special shielding prevent noise from being delivered to sensitive DACs for the best sound reproduction.
Full Range of Digital Audio Outputs and Ports for Network Connectivity
Designed to be matched with high performance digital-to-analog converters, the Aurender N10 is equipped with various SPDIF outputs (BNC, AES/EBU, coaxial, optical) and one dedicated USB Audio Class 2.0 output. For network connectivity and file transfers, the N10 comes with one a Gigabyte Ethernet port and two USB 2.0 data ports.
Oven-Controlled Crystal Oscillator (OCXO) for long-term jitter reduction
OCXOs are among the most accurate and stable clocks in use today, and are orders of magnitude more accurate and stable than commonly used ordinary crystal oscillators usually found in computers.
Temperature changes cause crystal oscillations to fluctuate, which can lead to jitter in the digital audio signal. Moreover, ordinary crystals are much less stable and lose accuracy over time. In OCXO clocks, a very stable, high-grade crystal oscillator is enclosed in a separate compartment and is kept at a constant temperature to prevent jitter from temperature fluctuations.
FPGA-based All Digital Phase-Locked Loop System
An All Digital Phase-Locked Loop system (ADPLL) incorporating Field-Programmable Gate Arrays (FPGA) with OCXO clocks will precisely time the digital audio data transmission and minimize jitter to below negligible levels.
Large 4TB Hard Disk Drive Storage with Solid-State Drive Cache for Playback
Two internal hard drives provide 4TB of storage and a 240G solid-state drive is used to cache music for playback.
If a selected song or album is already cached to the SSD, the hard drive will remain asleep. This minimizes wear and tear on the hard drive. By caching songs to the SSD drive for playback, electrical and acoustic noise resulting from spinning disks, moving heads and motors are also completely eliminated.
Dedicated USB Audio Class 2.0 Output with Ultra Low Noise Power Circuitry
The dedicated USB Audio Class 2.0 output is designed to deliver an exceptionally transparent audio signal free of noise, and is shielded from outside electronic interference.
AMM and NAS Support
If you already have NAS set-up, the Aurender N10 is able to play music stored on NAS devices, AMM (Aurender Media Manager) software is available for Mac (OS X 10.9 or later) or Windows 7 and later
You can run AMM software on your platform of choice, please specify the location of your music on the NAS then it will automatically find the Aurender in you local network and make a combining music database. It's transparent to the user, so once you run AMM, you can select the music with all the meta-data using the Aurender Conductor App without the knowledge of the location of your music files.